Welcome to GP Kids
We're so glad to have your kiddos join us for a time of worship & learning that is suited specifically for their age group. We include our kids in the first part of the "big" church and then they are released to a time of kid's church.
Secure Check-In
Your children's safety is important to us. Before your child attends class, they will be registered in our secure check in system. A nametag with a matching pick up code will be generated for your child with their class assignment. At the end of the worship service, you will present your child's pick up code to the classroom director for dismissal. Once registered in the system, check in each week is quick and easy.
Nursery : Birth to 3 years
These little ones receive loving care in our nursery. Our background checked volunteers will nurture & encourage your child during their time together.
2 year olds are taught simple Bible truths such as "God Made Me", "God Loves Me", and "Jesus Wants to be my Friend Forever".
Pre-School : 3-5 Years
We use a curriculum called Orange to teach preschoolers simple Bible truths such as "God Made Me", "God Loves Me", and "Jesus Wants to be my Friend Forever". We utilize video teaching, music, crafts and engaging activities to reinforce the Bible lesson.
Elementary : Kindergarten—5th grade
We continue to utilize the orange curriculum throughout GP, which uses stories from the Bible to teach valuable & Godly lessons. We also encourage memory verses each month that ties into the curriculum for that month. Small group discussions and activities are practical and age appropriate. Class includes video teaching, music, prayer time and more.
A NOTE TO PARENTS:
We believe families are the most important teachers in a child's Christian development. Therefore, we want to partner with you to help grow your child's faith.
Our GP Kids Staff is always available to answer any questions.
Upcoming GP Kids Events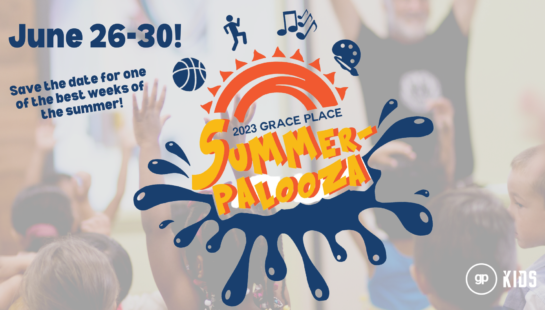 Summerpalooza!
Can you believe summer is right around the corner already?! Save the date and invite your friends to join us for a week of SummerPalooza!
SummerPalooza is a FREE, week-long day camp for kids and students. Registration opens on May 1st!
Easter Bash!
Calling all GP KIDS & STUDENTS!! You're invited to join us for a special EPIC EASTER BASH during the Sunday School Hour (9-10 am) on Easter Morning!!
Celebrate JESUS with us and join us for a free pancake bar, Easter games, interactive discipleship elements, prizes, and more!
Check out Summerpalooza 2022!